This list is best because some of these Lenses offer the highest quality, others offer great quality for the price. So, there is something for everyone. Before we go on our list let's know about the best smartphone Telephoto lens.
What is a telephoto lens used for?
The smartphone telephoto lens narrows the camera's field of view and magnifies the subject. How much the subject is magnified depends on the focal length of the lens. The longer the focal length, the narrower the field of view and the larger the image.
If the focal length of a telephoto lens is twice that of a camera wide-angle lens, it is considered a 2x telephoto lens. When the focal length is three times that of a wide-angle lens, it is known as a 3x telephoto lens, etc.
If you have a smartphone with a telephoto camera, fixing an additional smartphone telephoto lens will allow you to zoom in even further and magnify the subject even further.
Attaching a telephoto lens to a smartphone camera is pretty much comparable to using a zoom lens in that it uses optics instead of digitally to magnify the subject, as smartphone cameras usually do.
Top things to Consider before buying Smartphone Tele Lenses in 2021
When choosing a telephoto lens for your Smartphone, you don't want to go out with a working lens for the first time. Due to a large number of low-quality Smartphone lenses, the image of the subject is blurry and does not render properly. Instead, you want to find a lens that fits your needs while allowing you to take beautiful smartphone photos. Before choosing a telephoto lens for your iPhone, here are some things to ask yourself:
What do you want to shoot?
For example, if you're looking for a lens that can get a little closer to your subject than a basic Phone lens so you can capture photos of a half-body or face, you only need a small number of telephoto lenses. Zoom like 5x (or 2x). However, you need something longer to capture photos of players who are far away from a football match. A 10x telephoto lens would be a good start.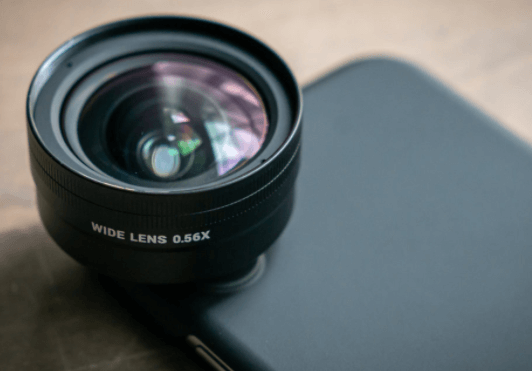 If you want to shoot a bird in a tree far away, you'll need something longer, like a 15x or 20x telephoto lens. Unfortunately, most Phone tele lenses don't offer a wide range of focal lengths. That means you can't shoot at 5x and then zoom in 10x. Instead, you are stuck at a single focal length. This limits your flexibility as a photographer, but with practice, you can learn how to work.
What Image quality do you want?
First, the best Smartphone tele lenses should have a sharp center. Too much to expect edge sharpness, but I want to take a picture that isn't noticeably blurry in the center of the frame. The best telephoto lenses should also have limited chromatic aberration and vignetting. Chromatic aberration often refers to fringing that appears on high contrast edges. A vignette is the darkening of the edges of the frame.
In telephoto lenses, chromatic aberration is something to watch out for due to optical imperfections. On the other hand, vignetting is often a compatibility issue, with the external telephoto lens covering up part of the internal phone lens. Anyway, both are optical issues that should be avoided if possible. Without fringes and vignetting, your photos will look a lot more professional.
What Build quality should be?
When it comes to the lenses for Phones, manufacturers don't often consider build quality to keep their prices down. Unfortunately, this creates cheap lenses that last for weeks before they break. That's why it's important to recognize which lenses will stand the test of time and which ones cannot. The best lenses are made of metal, not plastic. And they have a nice and solid feel to them when you hold it in your hand.
What compatibility fits your need?
Some Phone lenses are made to work with almost any smartphone, Apple and Android. Other Phone lenses are designed to work only with iPhones. The rest only work on a single iPhone model. Before buying a Smartphone telephoto lens, you need to make sure it is compatible with your smartphone. And buying a lens that is compatible with additional iPhone and Android devices has the advantage.
If you buy a new Samsung, Poco, Vivo, or iPhone, you can use the Teli lens without any problems, which will save you money. In the long run.
How much budget do you have to buy Telephoto Lens?
We can't evaluate the best Phone telephoto lenses without considering the price. Fortunately, even the best telephoto lenses are fairly inexpensive. For those on a tight budget, cheap telephoto lenses can be purchased at an affordable price.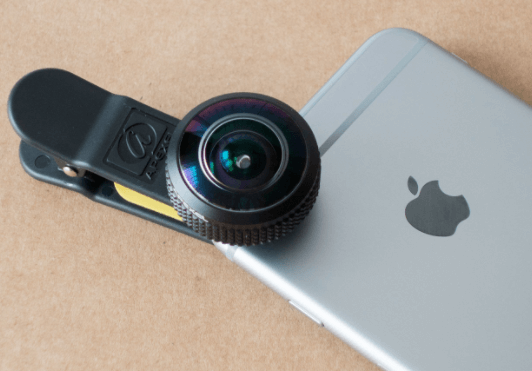 Are cheap tele lenses less performant than expensive lenses?
Generally yes. However, there are impressive budget lenses that offer a lot of power at an affordable price.
Best Telephoto Lens for Smartphone for Perfect Photography in 2021
Here are the 8 best telephoto lenses for smartphones that are suitable for mobile photography and produce amazing results.
1. Moment 58mm telephoto lens
The moment is a very well-known brand in the world of smartphone photography. They make the best high-quality smartphone camera lenses on the market. They are made of aerospace–grade metal and the same hand-polished glass used in high-end 4k film lenses. This is the best Telephoto Lens for smartphones, the Moment Tele Lens offers a 58mm focal length that gets you 2x closer to your subject. When used on a telephoto camera on a smartphone, the focal length corresponds to a 115mm lens. That's 4x magnification.
To use the Moment 58mm Tele Lens, you need to purchase a Moment Case for your smartphone or a Battery Photo Case to attach the lens to your phone. Unfortunately, these items are for cell phones only, so not all phones can use moment lenses.
Best Smartphone Telephoto Lens under $30
2. MACTREM Phone Camera Lens
The MACTREM Phone Camera Lens Kit is a 9-piece collection that's on the way. You can turn your smartphone into a photo powerhouse. You can capture great photos with your smartphone in a variety of environments and scenarios. This kit includes a 20x telephoto lens, 205° fisheye lens, 0.5x wide-angle lens, 25x macro lens, universal smartphone lens clip, eyecup, and tripod.
Each lens is well crafted and made of high-quality materials. Unlike other plastic lenses, MACTREM lenses use an elegant aluminum alloy housing that allows you to easily rotate the focus ring and lock the focus. The full MACTREM smartphone lens kit comes with a travel case, making it easy to carry the kit in your mobile photography adventure.
3. Apexel High Power 36x HD Telephoto Lens with Tripod
The Apexel High Power 36x Telephoto Lens is an ideal lens for bringing distant objects much closer. It's an ideal mobile camera accessory to carry, for example when camping and taking bird photography, wildlife mobile photography, or general photography in the great outdoors. This multi-element telephoto lens is crafted from aircraft-grade aluminum and premium glass for durability and clarity.
It has a special coating to minimize ghosting, reflections, lens flares, and other artifacts. The lens is about 20 cm long and weighs 246gram. It comes with a tripod to support the lens and a detachable universal clamp, making it compatible with multiple devices.
4. Sirui 60-SA portrait lens
The Sirui 60-SA is a stunning 60mm equivalent additional telephoto lens that increases the focal length of your phone by almost three times for beautiful, sharp, and professional-looking images. It has a 40-degree angle of view, which makes it absolutely ideal for taking portraits with your smartphone. The Sirui 60-SA Portrait Lens is made of aircraft-grade aluminum and German Schott optical glass.
The lens structure is composed of 6 elements in 4 groups to prevent distortion and get the best image. The glass has a special multi-layer coating to prevent lens problems such as glare and reflections. To attach the lens to your smartphone, you can use the included Sirui mobile phone lens clip adapter. This lens is compatible with a variety of smartphones. An optional lens mount adapter or protective case can be used for a better fit.
The best telephoto lenses for iPhone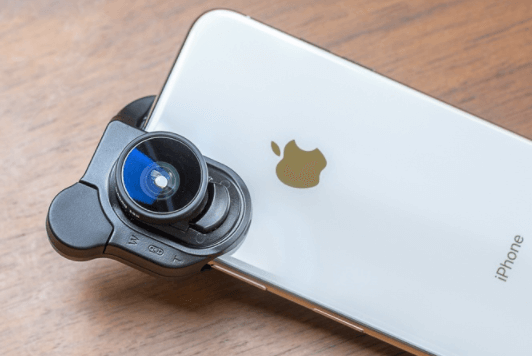 5. Beastgrip Pro Series 3X
Beastgrip is a company that makes stunning lenses and smartphone accessories. The Pro Series 3X Telephoto Lens is a fantastic 85mm smartphone add-on lens that dramatically changes the perspective of your mobile camera to shoot 3x closer to your subject.
This high-quality telephoto lens consists of 7 glass elements with a multi-layer anti-reflective coating. This lens is only compatible with iPhone. You will also need Beastgrip Pro or Beastcage to attach the lens to your smartphone camera.
6. CoPedvic 22X Telephoto Lens with 4K HD 0.67X Super Wide Angle
It's a powerful option, especially for wildlife and bird photographers. The focal length is on the longer side, and that's exactly what you need if you're working with small, distant subjects. Also, the CoPedvic 22X can be used as a sports photography lens if it is in a high position on the stand.
Fortunately, this telephoto lens has its advantages. The build quality and handling are impressive, especially for budget-level smartphone options. This is the best Telephoto Lens for smartphones, The lens itself is made of aircraft aluminum, and it has a built-in manual zoom function to make focusing easier at various distances. The image quality is good, but not good.
The lens shows considerable distortion and smoothness, especially around the edges (definitely gives an artistic feel). However, the center works well and should be able to satisfy beginners looking for their first telephoto lens at an affordable price.
7. Sony DSC-QX10 with 4.45-44.5mm lens-style camera
The Sony DISC-QX 10 telephoto lens is a unique choice for smartphone photographers. In fact, technically, it is neither a lens nor a smartphone camera. Rather, it is a Sony camera that can interface with a smartphone and take pictures with an 18MP sensor. Yes, it is the most expensive camera on this list. However, it is the most versatile. Connect to your iPhone via Wi-Fi and you can take pictures on your iPhone LCD.
The Sony QX 10 offers the best image quality of all the external lenses I've come across. The center and corners of the image are impressively sharp, and the fringes are well maintained. Most external iPhone lenses feel like a compromise, but the Sony QX 10 doesn't.
The biggest complaint about the Sony QX 10 is the build quality. The camera/lens combo isn't cheap, but it's also not robust. For this reason, it's a good idea to be kind. This lens choice is perfect for getting picture quality that you can't get with your phone. With a larger sensor and a higher MP rating, you can create truly impressive images.
8. Mikikin 5 in 1 with 20X telephoto and 2X zoom lens
Anyone who wants to take close-ups of very distant subjects, such as wild animals or birds, this is exactly what this Mikikin telephoto lens is for, it offers an intense zoom function at an affordable price. The Mikikin 5 in 1 set comes with a smaller telephoto lens. The 2x zoom makes it suitable for everyday photography such as street or portrait photography.
All in all, the Mikikin 5 in 1 set is the perfect purchase for anyone looking to shoot distant subjects or dense portraits. Especially if you have a budget. It also comes with wide-angle, fisheye, and macro lenses, and there is always an option to get creative with these lenses. This lens set offers two telephoto lens options so you can experiment more with your photos. Despite the low cost, the overall quality of the lens is quite high.
Conclusion of 8 best Telephoto Lens for smartphones
Attaching a telephoto lens to a smartphone camera can make a significant difference to mobile photography, especially when taking portraits. The subject may be a little further apart and closer with a wide-angle lens to avoid facial distortion associated with portrait photography.
That said, just attaching an external lens to your mobile camera doesn't automatically allow the camera to take a better picture. You need a smartphone with a good camera, this is how you can take beautiful pictures.