Automatic watch collectors know that if you don't wear this watch for more than a day or two, it will stop working. And the hassle of having to reset the date and time every time you need to put it back on. The only solution to this problem is 'Watch Winder'.
What is a Watch Winder?
Watch Winder is a small machine fixed with small motors that rotate in a circular pattern to mimic the movement of your hands, so you don't have to pick where you're going.
Advantages of the watch winder
There are many good reasons to invest in a watch winder. The most important benefits are:
Keep your watch running so you can wear it anytime.
There is no need to set the time, wind up, or adjust various functions every time the watch has stopped.
Whether you have one, two, or four automatic watches, it's easier to pick one and keep it working all the time.
They look great and can be used as a nice décor in your home.
You can keep your watch in one place.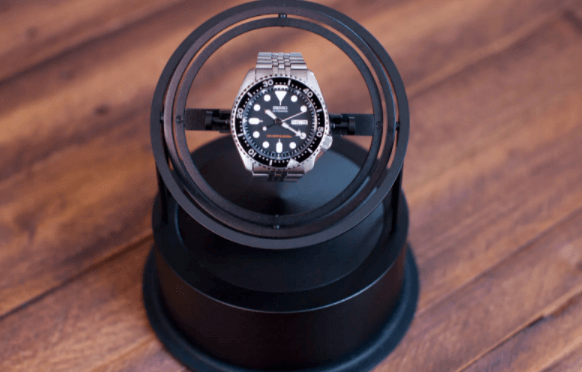 What is the best automatic watch winder?
Here we brought the list of more than 10 best valuable Automatic Watch Winders for all popular brands such as Tag Heuer, Rolex, Breitling, Omega, and other brands.
1. WOLF 270002 Heritage Single
When first brought to market, WOLF's Heritage 270002 Single Watch Winder was designed to provide high-quality performance with quiet operation. But WOLF, the European luxury leather goods company, doesn't stop innovating unless it's perfected.
Thus, WOLF 270002 adds new features and options, making the single watch winder one product. Following the other winders in the Heritage collection, the WOLF 270002 not only has an eye-catching design but also comes with a watch cuff to easily accommodate larger and heavier watches with wristbands measuring up to 10 inches.
The exterior is made of high-quality artificial leather, giving it a smooth and luxurious feel, and the tempered glass cover allows you to see the interior at a glance. The interior is covered in soft faux suede with a chrome finish on the clasp and handle.
The rotation program is another striking addition to this single-watch winder. Instead of continuously winding, the rotation is intermittent with an integrated pause and sleep phase for a natural and superior winding experience.
The clockwise winder is powered by a Mabuchi motor with three winding options: clockwise, counterclockwise, and bidirectional.
The WOLF single-watch winder may have a higher price point, but it's well worth it. Because this leather watch winder has a luxurious appearance, it will be the best watch winder for Rolex, Breitling, TAG Heuer, Omega, and other luxury watches!
2. CHIYODA Wooden Watch Box Mabuchi Motor
For those who value uniqueness and quality, the word 'handmade' will be enough to urge them to purchase a CHIYODA handmade wooden single watch winder. This watch winder is 100% handcrafted in 21 steps to create a stunning piece of art with an amazing appearance.
Experience the feel of a luxury piano baking varnish box and you won't stop raving about its beauty. The high-gloss lacquer finish and organic glass display all combine to make this single watch winder a work of art. The glass is very transparent and will not scratch or break.
Speaking of mechanics, CHIYODA watch winders are powered by MABUCHI belt-drive motors for ultra-quiet and long-lasting performance. There are 4 rotation settings per day to choose from: 1440 CW, 1440 CCW, 5760, and 2152. For each setting, the watch winder runs and stops for a specific number of minutes.
There are three winding modes: clockwise, counterclockwise, and bidirectional. The CHIYODA watch winder comes with an adjustable watch pillow to easily accommodate longer watch bands.
The interior is lined with insulating velvet to eliminate magnetization and prevent damage to your precious watch. Due to its intricate design, superior quality, and low price, CHIYODA handmade single watch winder is also a perfect choice for business gifts. The best watch winder under $100 right now!
3. Versa Automatic Single Watch Winder
Another watch winder with a Japanese Mabuchi motor is a great product available at a very affordable price. But don't judge a product by its price. Versa single watch winders silently meet the highest performance standards. Compact plastic design with black body and transparent cover.
The built-in smart timer spins the watch winder for approximately 5 minutes, then rests according to the selected 4 rotations per day setting (350, 650, 850, 1050). This cycle continues as long as the winder is on. A blue LED is displayed when the watch winder is running, but some people have complained that this light is distracting.
The nice thing is that you can turn it off with a little tweaking. Winder motors have three directional settings: clockwise, counterclockwise, and bidirectional.
If you want to use the Versa watch winder with a larger watch, it comes with a watch pillow that is spring-loaded to fit a variety of watch band lengths. But that's not all. Versa also comes with watch extenders with longer bands.
So, if you want to keep your watch running without exceeding your budget, the Versa single watch winder is an excellent choice.
4. WOLF 270402 Heritage Double Watch Winder
WOLF is a well-known brand for its leather watch winders and this model 270402 is one of our best sellers right now! A black winder and cobbled faux leather exterior are all combined in this modular box for a luxurious look.
Features a chrome clasp closure and a control swivel knob. You can also see the watch wrapped in a glass cover. To accommodate watches of different sizes, the WOLF Double Watch Winder has a redesigned watch cuff to address the need to carry larger sizes.
The winder features a patented rotation program that rotates 900 times a day with a start delay of 10 seconds. It has pre-programmed pause and sleep steps and an intermittent rotation feature with a 12-hour delay option.
You can choose the rotation mode from clockwise, counterclockwise, or bidirectional as you like. For space, you can easily fit two watches of different sizes depending on the space provided.
Cases up to 52mm can fit inside. The interior is lined with grosgrain to comfortably store both and can even hold a travel case. It can be operated via a 3.3V adapter for power or a D-cell alkaline or lithium battery, giving the winder a choice of power source.
Similar to the single winder, this WOLF double winder is at the higher price point of a watch winder. However, the technology used and stylish appearance, and reputable company certainly make all the value for any luxury watch.
Best automatic watch winder for TAG Heuer
TAG Heuer has had a rich heritage in making beautiful watches since 1860 when Eduard Heuer established his watchmaking facility in Jura, Switzerland at the age of 20. TAG Heuer has created many beautiful and iconic products over the years and has been associated with motorsport masters including Fangio, Steve McQueen, and Aryton Senna.
Monaco is instantly recognizable worldwide for its iconic wristwatches whose motorsport heritage is etched in their DNA. TAG Heuer has produced and continues to produce a wide range of beautiful wristwatches with automatic movements.
If you own one of these watches, you are probably looking for a watch winder that automatically winds your TAG Heuer watch. To help you find the right winder for your watch in terms of winding specifications and aesthetics, we have created this short guide to guide you through the selection process.
Here are some of the best TAG Heuer watch winders of 2021/2022.
1. Barrington WW-207-S
After Wolf, Barrington is the UK's second most reputable watch winder manufacturer. In the last decade, Barrington has emerged as one of Europe's leading watch winder brands, despite being on the market not long ago. Over the past few years, Barrington has been particularly successful in terms of expansion into the US market.
If the Wolf products above seem to be pushing your budget a bit, you can get the Barrington WW-207-S for half the price. It offers everything you need for a TAG Heuer watch, despite a significantly lower cost.
Not only the white theme shown in the picture is available, but you can choose from 7 additional colors. Compared to the Wolf model above, it is clear that Barrington took a more minimalist approach.
This model is available in two cushion sizes.
1. Standard: TAG Heuer fittings with 19cm-24cm bracelet.
2. Flex: Suitable for small models measuring 14cm-20cm.
Naturally, the winder works perfectly in all directions, including the two required for TAG Heuer models (clockwise and bi-directional). The TPD settings range from 650 to 1950, so the product fits perfectly in this respect as well.
Barrington's hallmark, this model comes with a jump function that allows you to connect watch winders from multiple brands via one cable. This is especially useful if you have a few automatic watches and want to keep them separate.
Similar to the Wolf model discussed above, it can be powered by AC and battery, making it suitable for travel. As of this writing, Barrington has a watch winder that can hold up to 12 watches. You can explore different models here.
2. WOLF 457156 Roadster
There is no doubt that Wolf is now a leader in the watch winder industry. To be honest, British brands have dominated the market for decades. The Wolf watch winder is the preferred choice for the luxury watch owner community.
The tremendous trust in Wolf products can be tied to the brand's very long history. The UK-based company has been manufacturing watch cases since 1834. This is the best Automatic Watch Winder in the UK. The growing demand for watch winders over the past few decades has also led to deliveries in this sector as well.
The Wolf 457156 is the best-selling model in the brand's Roadster collection. Like the rest of the variants in this line, the Winder is inspired by the most famous British cars such as the Jaguar or Aston Martin. The impact of both is particularly visible through the old wooden dashboard, glove-smooth leather, and chrome-spoke wheels.
Fans of the elegant approach will appreciate the ebony Macassar polished wood and chrome finish hardware. The winding space of the TAG Heuer watch is on the front, protected by a locking glass lid.
The watch winder has an openable roof that can hold three additional watches. Turns Per Day settings range from 300 to 1200, ensuring that the product fits perfectly into every TAG Heuer watch ever released.
The same applies to the winding direction as the model allows all three: clockwise, counterclockwise, and bidirectional. Like other watch winders manufactured by Wolf, this winder is powered by an ultra-quiet Mabuchi motor.
Perhaps what helps Wolf Winder stand out is the way it calculates rotations. While most competitors simply provide estimates, Wolf calculates the exact number.
Additionally, this model can be powered by AC and disposable batteries, making it an excellent choice for frequent travelers.
Setting up the TAG Heuer watch winder
Finding the right winding specification for your TAG Heuer is very important. You can contact TAG Heuer directly, find information or inquire in the booklet that came with your watch or online!
TAG Heuer comes with different winding specifications, but the two most popular settings are 650 TPD (revolutions per day) and 800 TPD depending on the movement. After programming the watch winder, simply leave it alone and the TAG Heuer is fully wound up and ready to wear!
Most TAG Heuer watches must be wound in either direction or clockwise, depending on the type of movement. Always check that the manufacturer's specifications are used for the number of turns and winding direction per day.
The Best Automatic Watch Winders for Rolex
Rolex watches are expensive, so you want to do everything you can to protect them. So, don't compromise on the watch winder you use. This list of Rolex winders is very budgeted than other winders on the market, with the great quality you get what you pay for.
These are high-quality watch winders from well-known and respected brands, built to protect your watch from damage.
1. Triple Tree Double Watch Winder
Of course, with the Rolex Winder, this list should include a few more affordable options. However, it is especially important to look at their performance here given the greater risk of winder failure.
The good news is that Triple Tree is known for making high-quality and affordable products like this popular winder. The winder is designed with nod shell piano paint and has a large acrylic window to view the inside of the watch.
Powered by an ultra-quiet Japanese motor with 4 rotation modes, you can find the best setting for your watch. The watch is also programmed to prevent continuous rotation to prevent overwinding.
The motor has a standby mode and can rotate clockwise, counterclockwise, or both.
2. Heiden Monaco single watch winder
The Heiden Monaco is a popular choice for single-watch winders. Designed with smooth stitched leather exterior and soft gray linen interior. On the front, there is a cover where you can see the watch wound inside.
Winder powered by the latest Japanese Mabuchi motor and gear design. These motors are very quiet and no magnetization could interfere with the movement of the Rolex.
We offer several settings for optimal use of your watch. There are 4 different Turns Per Day settings (650-950-1250-1850) and 3 direction settings (Clockwise, Counterclockwise, and both).
This means a total of 12 different setting combinations that give you many alternatives to finding the perfect setting for your watch.
There is also a rest mode that minimizes wear and tears on movements, which wraps around for about 1 minute and rests for 6.5 to 19 minutes. Specially designed to prevent overwinding.
Some of the best automatic winders for Breitling
Two aspects of Breitling's automatic watches are important when looking for a good watch winder. The first aspect is that a regular Breitling watch is slightly larger and heavier than a regular automatic watch, so a watch winder must have a nice and powerful motor.
This is why a more powerful motor is needed as more energy is required to rotate a Breitling watch. A watch winder with a Japanese, German or Swiss motor will be your best choice. This motor has enough power and flexibility to wind a Breitling watch.
If you are looking for the best watch winder for your Breitling watch, we have a wide range of watch winder brands to suit you. The middle segment quickly ends with Benson watch winders or Paul Design.
These brands offer unique price/quality ratios. So, let's have a closer look at our Breitling watch winders.
1. Orbita Siena One Burl Watchwinder
Orbita may not have as rich a history as Wolf, but it is still one of the few brands among luxury watch owners. Since its founding in 1996, the US-based company has established itself as a trusted source for affordable and stylish watch winders all made in the USA.
The W13006 model here belongs to the Siena collection, which can be considered the cheapest of all series ever launched by Orbita.
With its luxurious maple bee exterior and lacquered finish, the Winder doesn't look less elegant than the Wolf model above. The lift-up front prevents the surface of your table or desk from being scratched.
Like most Orbita watch winders, this one uses a high-quality Swiss motor. Silently, it's probably equivalent to the Wolf product described above.
This watch winder allows you to choose from four TPD settings: 650, 800, 950, and 1300. This model can be wound in all possible directions clockwise, counterclockwise and bidirectional.
Naturally, all of the above means that whatever model you currently own is a perfect fit for your Breitling. Similar to the previous choice, the Orbita Siena is a great choice for both home and travel.
The watch winder comes with a power adapter, but can also run on alkaline batteries. If you own more than one Breitling watch, you can check out our other Orbita watch winders for up to 48 models.
2. WOLF 456002 Viceroy
Without a doubt, Wolf's watch winders are the most popular on the market today. The fact that this is the best choice among luxury watch owners says a lot. Then it's no surprise that I have listed the Wolf watch winder as the best choice for your Breitling watch.
A company that originated in England has been offering excellent storage boxes since 1834. Over the past three centuries, it has earned a great reputation for producing stylish, durable, and efficient winding boxes.
The best-selling models listed here belong to the Viceroy Collection. For the various reasons listed below, it can be considered if not one of the best single watch winders for Breitling is currently available.
The 456002 model has all the features of the British company's gorgeous watch winder, especially with a black leather exterior and textured silk lining.
The Wolf watch winders apart from the rest of the list is the patented technology used by the British brand, which can count and record the exact number of revolutions in use. Conversely, most other brands estimate turnover.
Crucially, all Wolf models use ultra-low-noise Mabuchi motors. Not only is it unobtrusive, but it is also designed to be non-magnetizing, effectively eliminating the possibility of damage to the watch in the process.
The Wolf 456002 allows you to set the most important TPD to 300-1200 turns, making it suitable for all Breitling watches on the market to date.
Equally important is that the model allows for all directions of movement: clockwise, counterclockwise, and in both directions.
Adding to the list of premium features is the fact that it's mobile. A standard power adapter can be used during the homestay. If you travel often, simply switch the winder to battery mode and you're all set!
Now Wolf produces watch winders that can hold up to 32 watches.
Best automatic watch winder for Omega
If you are the proud owner of an automatic OMEGA watch or a few of them, congratulations! There is no doubt that Omega watches are among the best in the industry and are well worth taking care of.
If winding your watch isn't your thing, or if you simply want to keep your collection safe, we recommend buying a winding box. To help you choose the best watch winder for Omega, we brought some to the products popular brands.
1. Barrington SPEC006-S
The UK-based company brings another best value Automatic Watch Winder Barrington. Nevertheless, since its establishment in 2009, it has established itself as a reliable brand that offers solid mid-to low-priced products.
The single-watch winder described here is available in seven colors. You can also get one of six special edition models with real wood finishes. The model you see here is one of the special edition releases.
Its elegant wooden appearance makes it more suitable for luxury watches such as Citizen Promaster. Barrington's single watch winder has an exclusive jump feature that allows you to connect multiple devices from the brand via a connecting cable.
It can be powered from one AC power source, which is convenient if you want to keep your watch in a separate box. The SPEC006-S uses Japanese Mabuchi motors. So even the most noise-sensitive people will have a hard time hearing it when turned on.
The ultra-smooth rotation comes with five different TPD programs to ensure it meets the needs of all Omega models. The 650, 750, 850, 1,000, or 1,950 TPD settings are suitable for most watches on the market.
The watch winder also allows clockwise, counterclockwise, and alternating orientation settings.
If you are on the move, this model can also serve as a great travel watch winder. With just two AA batteries, it becomes a mobile winding machine.
In addition to single winders, Barrington also offers double, quad, and larger capacity models. The largest can hold 12 watches.
2. Heiden Monaco Double Watch Winder
Heiden watch winders have been around for more than a decade and the American company is a popular choice among many luxury watch owners. If you need to fit two Omega watches, we recommend this model.
Heiden products are known for their sleek and premium designs. The models described here use sophisticated materials such as cross-stitch leather and linen. Two soft pillows with ample interior space can accommodate both small and large Omega watches.
The two Japanese Mabuchi motors can be set individually, so you can adjust the settings to suit each of your two Omega watches.
The daily rotation can be set to 650, 950, 1250, or 1850 depending on the individual TPD requirements of the watch.
Naturally, the winder works in all three possible directions. 3 orientation settings (clockwise, counterclockwise, both).
As with the Wolf model above, the Heiden watch winder can be powered by an AC adapter or battery. The brand produces winders that fit up to 8 watches.
3. Versa Elite VR001
This watch winder on the Versa is one of the cheapest and most reliable options you can find online. The VR001 model is one of the cheapest models available from the California-based company to date.
The Versa watch winder described here boasts a classic black leather finish on the exterior. The interior is quite spacious to accommodate even the largest Omega models.
The Mabuchi motor is the quietest motor available today, so it's no surprise that it is also used in this watch winder.
Japanese motors allow for 4 different rotation speed settings per day (650, 950, 1250, 1850) and can be operated clockwise, counterclockwise, or in both directions.
This is another low-budget watch winder, so unfortunately it can't be powered by batteries. The Winder comes with a 110-240V power adapter, so it's only a good choice if you plan to use it all the time at home. Currently, Versa produces watch winders that can hold 1-4 watches.
Frequently Asked Questions about Winders
Who needs a watch winder?
In short, anyone who owns an automatic watch that they don't wear every day should have at least one. If you wear your watch every day, the movement of your arms and wrists will keep it wound up all day. Otherwise, the watch will loosen and gradually lose power.
The watch will no longer display the correct time or date until one day you will wear it. This is more likely to happen if you have multiple automatic watches, as wearing only one watch at a time can degrade the performance of the other watch.
Some watches notify you when you need to rewind, and usually moving the watch around will make it work again, but each time this happens you will need to reset the watch. Winder will solve this problem.
How does the winder work?
The winder rotates the watch on a turntable inside the winder. More complex winders can be preset and some winders will run until switched off but will spin the watch at various rotations per minute that can be set according to the watch's requirements.
Some turntables swing gently, while others rotate in a circle, some move in a clockwise direction, and others in the opposite direction. Many can set it to a specific number of revolutions each day.
However, others may have daily repeat settings that you can choose as part of a preset schedule, and some may have more than one turntable. Knowing and understanding these features can help you choose the best watch winder.
How long can an automatic watch last without a winder?
It depends on different models. However, a fully wound watch can last up to 40-50 hours. Some can run smoothly for several weeks. For a watch in good condition, the minimum time is approximately 38 hours.
Does Rolex need a watch winder?
Owning a Rolex is already a luxury investment. More than that, Rolex requires proper care, maintenance, and preservation. If you don't want to waste your initial investment, you should use a watch winder to make sure your Rolex is working properly.
When it comes to watching winders, convenience comes first. A watch winder or a hand is required for a loose watch to come to life. Most owners of Rolex watches who want to save time and energy choose a winder.
If you own more than one Rolex, a watch winder is a must. Do you want to keep an expensive watch in a drawer? A watch winder provides a safe place to store your watch while also serving as a decorative element in your home.
Most Rolex watch winders use durable materials to give a good finish, which adds to the value of a Rolex watch.
Can I use a Rolex watch winder?
Definitely yes! As with any watch, the same rules apply to Rolex watches. You can use a watch winder for your Rolex, choose the appropriate watch winder and set it to the appropriate mode to make it work as well as possible.
A watch winder can be a great and practical tool for practical use, as long as it has the proper winding mode to prevent overwinding and prevent unnecessary wear on the movement.
How do you wind your Rolex?
There are two ways to wind a Rolex. You can use a watch winder or wind your Rolex manually.
If you are using a winder, simply insert the watch into the winder and let it run.
If you decide to wind your watch manually, here are the detailed instructions.
Find a flat surface and place the watch on it.
Loosen the screw by turning the crown counterclockwise. When released, the crown pops out of the case. Using your thumb and index finger, wind the crown clockwise approximately 30-40 turns.
Don't worry if you overwind your watch, as Rolex has a mechanism to prevent this. Screw crown back into place.
Should I wind up my Rolex every day?
If you wear a Rolex every day, you don't need to wind it up. When you move your wrist throughout the day, the Perpetual rotor delivers energy to the watch, providing a constant, stable power supply. Depending on the model, the charge lasts up to 70 hours when removed and stored separately.
However, this assumes that you are wearing your Rolex all day. If you have several watch collections or have not worn your Rolex for a few days, it will stop.
In such cases, it is practical to keep the watch winder in working condition. This eliminates the need to manually wind the Rolex as the winder continues to charge the power reserve.
How many TPDs does Rolex need?
As you know, different watches and different movements are best suited for different types of revolutions per day (TPD). The number of revolutions per day ensures that the watch works properly and is optimized for a particular watch to avoid damage to the movement.
The optimal TPD for most automatic watches is between 500 and 800 TPD. However, some watches, especially those with a longer power reserve, may require more rotations per day.
For watches with a long power reserve, 1300 TPD is considered ideal. For a Rolex Day-Date, 600 TPD is recommended.
Worth mentioning is that some movements only rotate in one direction, which is why you should choose a winder that only rotates in one direction in this case. A Rolex watch, on the other hand, winds in both directions, so it must have a winder that supports it and must be set to rotate in both directions.
However, this shows that choosing a watch winder can be more complicated than choosing the best winder you find for the first time. It must be adapted to the requirements of the watch.
Does the watch winder work on Seiko Kinetic watches?
Unfortunately, standard winders do not work on Seiko Automatic models, so you need to find a specific watch winder for your Seiko Kinetic watch. Standard watch winders provide low rotation to prevent overwinding.
This is inconsistent with Kinetics' strong requirements. When you need to charge your Kinetic watch, we recommend using an induction charger. Some people even use an electric toothbrush charger to power their Kinetics.