The Professional Citizen Promaster showcased the world's first solar-powered 1,000-meter dive watch in Baselworld. As you may know, the Citizen bn7020 17e 1000M high-end diver watch means business. This tool watch is a practical watch tailored to fulfill its purpose as a diving watch.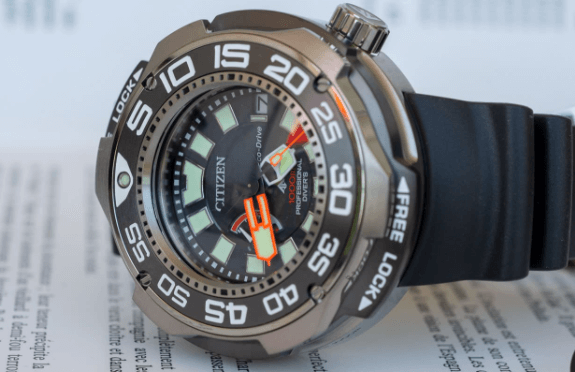 About Dive Watches
Dive watches are very popular because you can trust that they will not be easily dented, scratched, or broken. Dive watches are built to withstand these conditions, making them perfect for professional divers and adventurers.
Citizen Promaster 1000M Professional Diver Review
The first thing that catches your eye when you first see this Citizen watch is the case. This 52.5mm x 21.4mm case is built with Citizen's "Super Titanium" alliance for scratch resistance, lightweight, and durability.
The bezel is coated with Diamond-Like Carbon (DLC) and the sapphire crystal has an anti-reflective coating. The bezel is designed with a 'saw blade' design so that it can be rotated easily even when wearing thick diving gloves. This unidirectional bezel features an elapsed time display and lock.
The locking mechanism prevents the bezel from accidentally bumping and affecting the accuracy of the elapsed time display. You may see an orange strip when the lock is unlocked. This visual indication tells you exactly when the bezel is locked in place. There is a similar orange strip that can be seen when the screw-down crown is loosened.
Functions
This dive watch has a date display at 3 o'clock and a power reserve indicator at 9 o'clock. The power reserve indicator lets divers dive worry-free because they know exactly how long the watch is running without lights. The Citizen Promaster 1000M Professional Diver watch also has a helium release valve at 10 o'clock on the side of the case.
This helium release valve releases helium gas that enters the watch during deep diving, preventing damage or rupture of the movement. As you may have noticed, the hour markers are quite large.
The added lumens and increased size make the time very easy to read, even in less than ideal conditions. The outline of the minute hand is bright orange, making it easy to distinguish between the hour hand and the minute hand.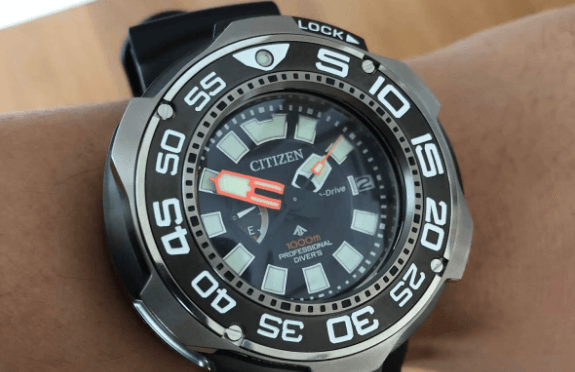 Citizen bn7020 17e Movement
As for the movement, this dive watch has a solar-powered movement with an accuracy of +/- 15 seconds per month. This Eco-Drive One movement can convert any light (natural or artificial) into energy, which is stored in a power cell.
Because the watch can store energy, the watch will continue to work even if stored in the dark (at least 6 months). The best thing about solar watches is that you don't have to worry about replacing batteries. Read more How Does a Quartz Watch Work?.
ISO compliant
If you're looking for a tested dive watch, you'll be happy to know that the Citizen Promaster 1000M Professional Diver is ISO compliant.
Weight
The Citizen Promaster 1000M Professional Diver watch can be a bit heavy, but it's stylish in a way that's industrial and mechanical can. A watch with an adventurer motif makes you feel as if you are discovering the world.
Citizen Promaster Specification:
Date display: at 3 o'clock
Movement: Quartz
Function Power reserve indicator: ISO compliant diver
Band: Black polyurethane strap, buckle
Case Size:  52 mm x 22 mm
Accuracy of ±15 seconds per month / Eco-Drive / About 1.5 years of driving when fully charged
Unidirectional: Bezel/Bezel Lock/
Power reserve indicator: × 10/1000m waterproof (saturated diving)
Luminous: (hands, indexes, bezel at midnight)
Waterproof: 1000M/100Bar for swimming, water sports, scuba diving
Tighten the crown: 1000 meters/3300 feet water resistance.
FAQs
What is ISO compliant and its Requirements?
ISO watch is a certified diving watch tested to ensure that they are resistant to saltwater and reliable even underwater. ISO 6425 certification also performs tests for resistance to magnetism, impact resistance, external force resistance, and thermal shock resistance.
Finally, there is a test to see if the watch continues to work after spending 15 days in a pressurized chamber. This chamber contains a mixture of helium and oxygen (or 100% helium gas) and returns to atmospheric pressure within 3 minutes after high-speed decompression.
If the watch passes these stringent requirements, it may display a depth rating after the word "diver". In this case, the Citizen Promaster Diver is marked "Professional Diver's 1000m" on the side of the case.
ISO Certification Requirements:
The watch must be equipped with a device that allows the user to preselect a time of up to 60 minutes. This can be a rotating bezel or a digital display.
Timing devices must be protected against inadvertent manipulation.
The bezel should have a scale showing 60 minutes, with an indicator showing every 5 minutes.
The markings on the dial must be visible and must be in harmony with the markings on the preselection device.
The time should be visible and the minute hand should be easily distinguishable from the hour hand.
The time set on the preselector must be clear as an indication that time is passing (this requirement is usually met by a glowing hand and an hour mark).
A battery-operated watch must have a visible low-battery indicator.
Conclusion-Citizen professional divers watch
This watch is the ideal watch for divers. It has all the features you could want from a dive watch and is ISO compliant. This is the biggest watch I've ever seen, but thanks to the rug-free case it's easier to wear and less bulky.
This Citizen professional dive watch is a statement watch that focuses attention on the wrist and encourages conversation.