The famous watchmaker Fossil launched the latest product is Fossil Gen 5, which was announced a year ago. Now the company is going to launch a successor product Fossil Gen 6 Smartwatch C1NF1.
Upcoming Fossil 6 Generation C1NF1 Smartwatch
The upcoming Fossil 6th generation smartwatch was found on the FCC website with model number C1NF1. This is the same device that appeared in the Bluetooth SIG earlier this year along with the DW11 smartwatch. In the previous post, we listed Top Best Smartwatches Under $50 you can have a look.
Fossil Gen 6 C1nf1 Expected Specification
The Fossil gen6 smartwatch is expected to be powered by the Qualcomm Snapdragon wear 4100 SoC. The smartwatch runs on the latest Wear OS. LTE support, Bluetooth, GPS, NFC, and WiFi included. It is also said that Fossil's 6th generation smartwatch will improve battery life.
Additionally, the device appears to be powered by an APP00310 battery with a 2.85Vdc and 0.4Ah rated power. It turns out that the batteries are manufactured by APack Technology Co., LTD, a battery manufacturer based in Taiwan.
With NFC support, the device can also be used with wireless payment services similar to Google pay. Given these features, it will be interesting to see how the company optimizes the battery life of its upcoming WearOS-based smartwatch.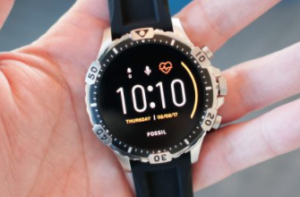 Release date of  Fossil Gen 6 Smartwatch
According to Wareable, a spokesperson hinted that they were working on a two-year cycle. as consider it we could see Gen 6 devices launching at IFA 2021 in September.
As we discussed above Fossil Gen 5 Smartwatch, was launched on date 08-05-2019. Let's have a look below.
About Fossil Gen 5 smartwatch
WearOS smartwatch fossil Gen 5 smartwatch has a luxurious look and feel. There is only a steel body with a thickness of 12 mm. The body has three physical buttons on the side, as expected, you can choose from a 22mm interchangeable strap, a luxurious steel strap, or an elegant leather strap. It is a beautiful smartwatch with a water resistance of up to 30 meters.
The smartwatch is powered by a Qualcomm Snapdragon 3100 processor and runs Google's latest WearOS. It has 8 GB of storage space and 1 GB of RAM. When it comes to sensors, Fossil has an accelerometer, altimeter, ambient light, and gyroscope. It also has a heart rate monitor, NFC function. This device has a Bluetooth 4.2 connection compatible with Android 4.4 and iOS 9.3 and above.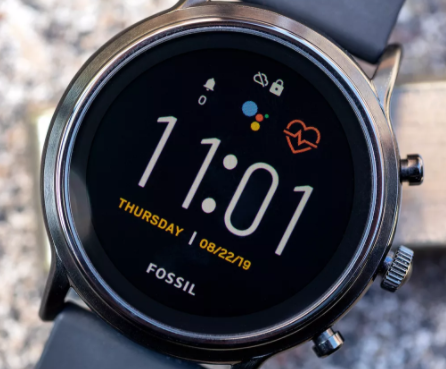 Features of Fossil Gen 5 Smartwatch
Also, to call and message notifications, the smartwatch is full of activity tracking, Bluetooth music control. There is no built-in GPS, but Fossil Gen 5 does not have GPS to track running distance. There are also weather features, alarms, calendar reminders, date reminders, automatic time zones, social clock faces, and customizable dials.
Additional features include anti-lost, stopwatch, LED flashlight, and Google Pay for NFC. There is also a Google Assistant with built-in speakers and a microphone.
Display: With a vivid color screen, and a bright display. Smartwatch has a full touch screen operation. It is protected by tempered glass, perhaps a Corning Gorilla glass display.
Battery: When it comes to the battery, the Fossil Gen 5 smartwatch features a quick charge feature, giving you 36 hours of battery life on the watch face on a single charge.
Concluding
Fossil's 5th generation smartwatch solves many of the problems that have been encountered with devices of the past few years. There is no smoother performance and no additional features like GPS and heart rate monitoring. Also, the battery no longer charges slowly. That's a lot of trouble gone. As a result, Fossil is still the brand to go if you want a trendy smartwatch and you're not an Apple user.
I had some minor issues with the GPS data loading while running the session, but I don't recommend buying them as they didn't have such serious issues. The fifth-generation Fossil works well for all the key things you want your smartwatch to do. It's smoother, more stable, and much faster than other Wear OS watches of the previous generation.
Even if this particular model doesn't suit you, Fossil has a wide range of styles and brand lines for huge consumer brands, so there's no shortage of smartwatches with similar features, but it's closer to the style you want. And that is arguably Fossil's delight. It's fashion first, but now the tech side of the watch is even better.
Fossil Gen 6th generation will have the advanced option, hopefully, Fossil Gen 6 C1nf1 Smartwatch will be smoother than Gen 5.