Foldable phones tend to offer top-of-the-line specs that rival high-end flagship phones, so you're not just paying for the screen. This often reduces battery life slightly. If you are extravagant with Xiaomi foldable phones, it's worth paying attention to this summary, so you'll find exactly what you need in the best Xiaomi foldable phone.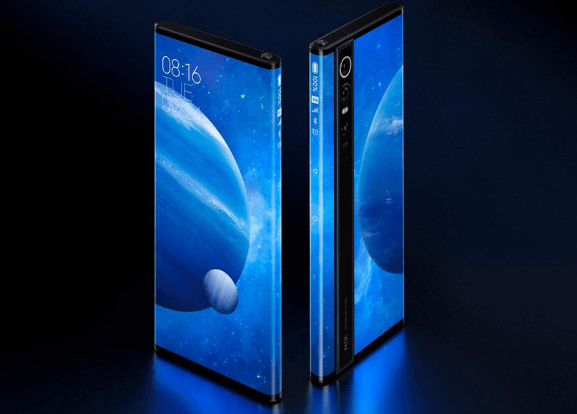 What are the best Xiaomi Foldable Phones in 2022?
Here is the list of best Xiaomi foldable Phones so far you can buy in 2022:
Xiaomi Mi Mix Fold
Mi Mix Alpha
Xiaomi Mi Mix Fold 2.
Best Xiaomi foldable cell phones review
1. Xiaomi Mi Mix Fold
Xiaomi has revived the Mi Mix series with the Mi Mix Fold, its first commercial foldable phone. The Mi Mix Fold is a pretty traditional folding phone that uses a big screen on the inside/small screen on the outside design, similar to Samsung's Galaxy Z Fold, unlike the company's previous odd Mix devices and concepts.
The internal screen is an 8.01-inch 4:3 OLED panel with 2480 x 1860 resolution, the standard display brightness of 600 nits (900 peaks), and support for Dolby Vision HDR. Xiaomi says the display can withstand 200,000 folds.
The external screen is 6.52 inches and has a 90Hz refresh rate. Xiaomi is making big claims about the audio capabilities of the Mi Mix Fold, which are explained by four Harman Kardon tuned speakers and 3D panoramic sound.
The processor is a Qualcomm Snapdragon 888 combined with 12 GB or 16 GB of RAM and 256 GB or 512 GB of storage. The battery capacity is 5,020 mAh, and Xiaomi says it can be fully charged in 37 minutes using the 67W fast charging system.
The new Mix is ​​also the first phone to use liquid lens technology in its camera. Xiaomi says it will allow for telephoto lenses with a close focal length of 3cm and an optical zoom of 3x or 30x hybrid zoom.
The rest of the camera system consists of a Samsung HMX 108-megapixel main sensor and 13-megapixel ultrawide, which sounds like the same solid setup as the Mi 11.
Xiaomi first showed off its foldable phone prototype more than two years ago, before Samsung launched its first Galaxy Fold. The device had a double-fold design that allowed the tablet-sized screen to bend back to the left and right edges for a cell phone-like experience.
Later that year, Xiaomi announced the Mi Mix Alpha with a wraparound screen that covers almost the entire phone, but it never hit the market. More recently, Xiaomi has unveiled its latest concept phone featuring a "square curved waterfall display" that is curved on all four sides.
The Mi Mix Fold, on the other hand, is selling very well. Pricing starts at around $1,521 for the 12GB RAM and 256GB storage model and goes up to $1,978 for the 16GB/512GB ceramic special edition.
2. Xiaomi Mi Mix Alpha
Xiaomi's Mi Mix series has always pushed the boundaries of phone screens and form factors, from the original model that sparked the bezel wars to last year's sliding notch-less Mi Mix 3. Now with extremely curved corners as if the "waterfall" display is starting to show, Xiaomi has taken this to a whole new level with the Mi Mix Alpha.
Alpha's "surround screen" completely wraps the device up to the point where it meets the camera module on the opposite side. The effect is that it is an almost completely screened phone with status icons such as network signal and battery charge level displayed on the side.
A pressure-sensitive volume button is also displayed on the side of the phone. Xiaomi claims that the screen-to-body ratio is over 180%.
The Mix Alpha uses Samsung's new 108-megapixel camera sensor, co-developed with Xiaomi. As with other newer high-resolution Samsung sensors, the pixels are combined into a 2×2 square to provide better light sensitivity in low light, in this case producing a 27-megapixel image.
We'll have to see how it works in practice, but the 1/1.33-inch sensor is unusually large for a phone and should give the Mix Alpha a lot of light-gathering capabilities. You don't even need a selfie camera. All you have to do is turn the phone to use the back part of the display as the 108-megapixel viewfinder.
The more traditional specs of the phone include a Qualcomm Snapdragon 855+ processor, 5G connectivity, 12GB of RAM, 512GB of storage, 40W wired fast charging, and a 4,050mAh battery.
The last spec would probably imply that Xiaomi doesn't imagine the full screen is always on. Xiaomi describes the Mix Alpha as a "concept smartphone" and will not go into mass production any time soon.
The phone is expected to go into small-scale production in 2021 and will sell for 19,999 yuan (about $2,800) in December 2021.
On the one hand, this design raises obvious issues such as cost, durability, battery life, accidental touch recognition, privacy, etc.
3. Xiaomi Mi Mix Fold 2
Xiaomi is ready to launch the new Xiaomi Mi Mix Fold 2 on April 30, 2022 (expected). This smartphone is rumored to be available at a starting price of $1,499.99 for the 12GB RAM + 256GB internal storage variant.
On the camera front, Xiaomi's smartphone is rumored to feature a single camera setup on the back. It has a 108MP + 8MP + 13MP camera to help you click lifelike pictures. From the front, the Xiaomi Mi Mix Fold 2 is expected to boast a 20MP front camera for clicking selfies.
You can watch movies or play games on the Xiaomi Mi Mix Fold 2, which features an 8.01-inch (20.34 cm) display with a resolution of 1860 x 2480 pixels
 In addition to this, the Xiaomi Mi Mix Fold 2 also powers the Octa-core (1×2.84GHz Kryo 680 & 3×2.42GHz Kryo 680 & 4×1.80GHz Kryo 680), allowing you to enjoy the smooth performance while accessing multiple apps.
Mobile will also be available in a variety of storage options after launch. This availability makes it easy to store local files, videos, photos, movies, songs, and other items without worrying about space constraints.
The Xiaomi Mi Mix Fold 2 is expected to run the Android v11 operating system and can accommodate a decent 5020mAh battery, allowing you to enjoy gaming, listening to songs, watching movies, and doing other tasks for a longer period without worrying about battery drain.
The various connectivity options of the Xiaomi Mi Mix Fold 2 include Wi-Fi 802.11, b/g/n, mobile hotspot, Bluetooth v5.2, and 5G supported by the device, 4G, 3G, 2G.
In addition, sensors on your smartphone may include Accelerometer, Gyro, Proximity, Compass, and Color Spectrum.
Does Xiaomi have foldable phones?
Yes! Xiaomi officially entered the foldable phone market in March with the Mi Mix Fold, and now Xiaomi is going to release its 2 most powerful foldable cell phones, Mi Mix Alpha and Mi Mix Fold 2.