The Samsung A10 and A10e are mid-range smartphones released in 2019. Therefore, both are very affordable and popular phones. Here we see the difference between Samsung Galaxy A10 and Samsung Galaxy A10 to help you decide which phone is better for your needs.
What is the Difference Between Samsung A10 and A10e?
The only biggest difference between Samsung A10 and A10e is the 'display'. Galaxy A10 has a 6.2-inch of large IPS LCD, and the Galaxy A10e has a 5.83-inch TFT display.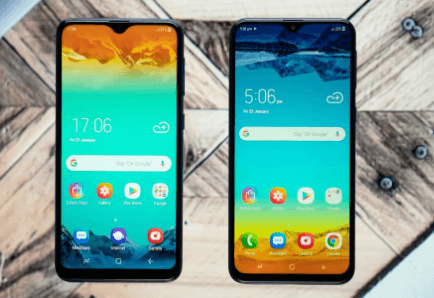 Here is the full comparison of Samsung A10 and A10e 2022
As mentioned above both phones are almost the same however there are some minor differences which we are gonna compare in this article, so without future dua let's see the difference between Galaxy Samsung A10 and Galaxy A10e.
Design
The A10 is slightly larger than the A10e. Therefore, it is more difficult to hold and use with one hand.
It is also heavier than the A10e. Both phones use glass for the front material and plastic for the back and frame material.
So neither is comfortable in the hand and has no premium builds.
Neither phone is waterproof. Therefore, be careful when using it near a water source.
Both the A10 and A10e have smaller bottom bezels. Beyond that, all other aspects have negligible bezels.
So both phones look modern and have a high screen-to-body ratio.
Neither phone has a fingerprint scanner. However, the lack of such a fingerprint sensor is reasonable due to the low price of the phone.
Both phones have the similar build quality and design.
Display
The Galaxy A10 has a 6.2-inch IPS LCD, and the Galaxy A10e has a 5.83-inch TFT display.
The A10 also offers resolutions of 720 x 1520 and 271 PPI density compared to the 720 x 1560 resolution and 295 PPI density of the A10e.
So both phones have relatively low resolution and pixel density.
With better IPS technology, the A10 display offers better colors and sharper images.
However, the difference is not that great.
Both phones have a notch for a selfie camera at the top of the display.
This notch is small and usually not distracting.
The Galaxy A10 has a slightly better display than the Galaxy A10e.
Camera
The A10 has a 13MP primary camera and the A10e has an 8MP or 5MP primary camera.
Both cameras are of average quality and suitable for everyday photography.
However, the pictures are rather soft on both phones. Especially night photos have low detail and a lot of noise.
Both phones can record 1080p video at 30fps on the main camera.
The video also has the average quality for a mid-range phone.
However, it is not stable, so it is difficult to shoot stable images while moving.
The Galaxy A10 has a 5MP selfie camera and the Galaxy A10e has a 5MP or 2MP selfie camera.
Both selfie cameras make average-quality selfies.
Both phones have similar camera quality.
Performance
Both phones use the Exynos 7884 chipset. It has an octa-core CPU and a Mali-G71 MP2 GPU.
Also, since this is a low-end chipset, both phones have average performance.
However, you can use both phones to play games in lower-quality settings.
Both have sufficient performance for everyday use.
The A10 comes with either 2GB or 4GB of RAM. The A10e, on the other hand, has 2GB of RAM.
Also, both phones have 32GB of internal storage. However, both support MicroSD for expandable storage.
Both phones have similar performance and are suitable for everyday use.
Sound
Both the A10 and A10e have headphone jacks. So you can easily use your favorite headphones on both phones.
However, both phones only have a single speaker. Therefore, it provides only average quality sound.
Both phones have similar headphones and speakers.
Ports
The A10 only has a micro USB port compared to the newer USB Type-C port on the A10e.
A10e has better USB technology.
Software
Both phones come with Android 9.0. However, both are upgradeable.
Due to their low processing power, both phones provide an average software experience.
For example, apps take longer to load, and sometimes the UI becomes unresponsive.
Samsung usually provides a lot of unnecessary software for their phones.
Therefore, you can free up some resources and improve performance by uninstalling this software.
This is useful for both the Galaxy A10 and Galaxy A10e.
Both phones also support Bluetooth 5.0.
Both phones have similar software and the latest Bluetooth 5.0.
Battery
The Galaxy A10 has a 3400mAh battery compared to the 3000mAh battery of the Galaxy A10e.
Due to the larger battery, the A10 has a slightly longer battery life than the A10e
However, neither phone supports fast charging.
Galaxy A10 has a larger battery than Galaxy A10e.
Which Galaxy phone to choose?
However, if you like a large screen phone with great battery life the Galaxy A10 will be your best choice. On the other hand, if you are a new USB technology lover the Galaxy A10e will be your great choice.